I saw The Revenant today.
God, the cast must have been cold filming it.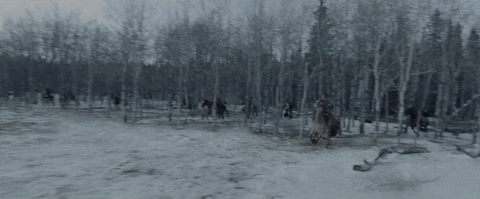 If you want to go into the film completely blind, I'd stop reading. There will be no major spoilers, but the core premise of the film will be given away.
—
The Revenant is a film about a fur trapper (Hugh Glass) who gets attacked by a bear. He's a bit worse for wear to say the least, and his other fur-trapping friends leave him for dead.
All alone, he makes a stupidly long journey to find the guys who abandoned him.
And it's brilliant.
There's never a moment that's boring, and you end up truly invested in what happens. It's one of the most tense experiences I've had in recent cinema. The Revenant never lets you catch your breath.
The atmosphere that the cinematographer manages to create is also incredible. You sit looking at the screen actually feeling cold as you watch the conditions that Glass crawls through.
Leonardo DiCaprio really goes all in for the role. He's regularly jumping into freezing water, eating raw bison liver and just generally putting everything he's got into giving a great performance.
Tom Hardy is also phenomenal as John Fitzgerald, one of the trappers who leaves Glass behind. He could very easily win the Actor in a Supporting Role Oscar, he's that good. He manages to make you feel so uneasy whenever he's on screen.
The fights in the film are absolutely brutal. There's no fancy martial arts or fancy roundhouse kicks, it's all just balls to the wall fighting to the death. It's great!
The bear fight itself is also just mental. Whenever you think it's finally over, here's the bear again ready to take out a chunk of Glass. The CGI of the bear is good. Not amazing, but good.
I guess getting a real bear to maul Leonardo DiCaprio might have been going a bit far. Even if he is going for that Oscar.
About that Oscar. The Revenant itself is up for a load of awards, and I'm sure it'll win many of them. But the Actor in a Leading Role category is full of great performances. I think Eddie Redmayne in The Danish Girl is Leo's main competition, but you can't ignore Matt Damon's efforts in The Martian.
All said, I think Leo could get it this year. I really hope he does; he's my pick for the win.
—
The Revenant is a fantastically brutal epic that doesn't let you sit back in your chair once. It's tense, it's bloody, it's brilliant.
Go and watch it.